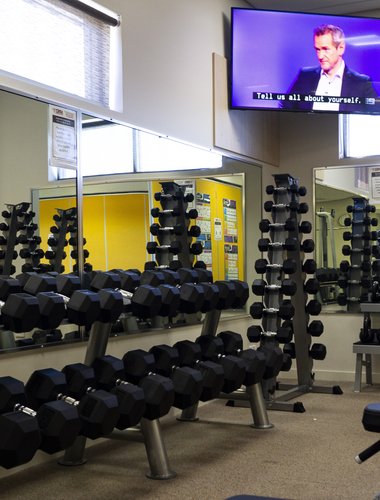 Featuring modern fitness equipment, spacious and private facilities, and access to exclusive amenities, including steam rooms and massage chairs, our gyms offer the perfect environment for members in recovery and those in need of a supportive environment to achieve their goals. Unlike mass-franchise gyms, which are often overcrowded and expensive, our gym offers flexible and affordable payment options and has been set up with accessible and roomy floorplans for varying abilities and fitness levels.
Why join?
With Visitor Passes, 6-month and 12-month Memberships and both upfront and direct debit arrangement payment options, we offer greater flexibility for our members. Discounted prices are also available for Concession Card holders3.
Our Gyms have been designed with community in mind. Regardless of your fitness level, ability, goals or social needs, we have room for you!
Zone out after a workout in a state-of-the-art Massage Chair. Our chairs combine S&L track technology with therapeutic Zero Gravity positioning for a full body massage to help improve circulation.
Feel the stress of the day quickly melt away as you unwind in our Steam Rooms. Use of a Steam Room has been reported to improve circulation and lower blood pressure, with potential benefits including pain relief after workouts, reduced stress levels, and even clearing of congestion.
Membership fees
Please be advised some of our fees will be increasing on 1st October 2023. For more information, please call 1300 492 492.
Membership Type
General Price
Concession Price3
12 Month Membership (Direct Debit)

Unlimited visits within a 12 month period

$30.08
per fortnight
$27.07

per fortnight

12 Month Membership (Paid Upfront)

Unlimited visits within a 12 month period

$680.00
$612.00
6 Month Membership (Direct Debit)

Unlimited visits within a 6 month period

$33.62

per fortnight

$30.25

per fortnight

6 Month Membership (Paid Upfront)

Unlimited visits within a 6 month period

$380.00
$342.00
Casual Visit Pass

Valid for 1 visit of any Gym facilities

$14.00
$12.60
6x Visit Pass

Valid for 6 visits of any Gym facilities

$66.00
$59.60
10x Visit Pass

Valid for 10 visits of any Gym facilities within 4 months

$95.00
$85.50
Gym Opening Hours
| Days | Open | Closed |
| --- | --- | --- |
| Mon - Fri | 06:00 AM | 08:30 PM |
| Sat | 07:00 AM | 11:00 AM |
| Sun | Closed | Closed |
Become a member
To become a member, simply contact us either using the contact form or by calling us on (07) 4199 7555.
IWC Content is strictly informational and should not be considered medical advice. See a certified medical professional for diagnosis and treatment recommendations.
Membership includes access to the gym, massage chairs and steam rooms. All memberships (excluding Casual Visit) include an Access Fob. In the case of a Fob becoming lost or stolen, a $10 non-refundable fee will be applied for a replacement Fob.
Direct Debit is available for 6 and 12 month fixed term memberships only and attract additional cost due to external direct debit fees. Dishonour and Early Cancellation fees may also apply.
A 10% discount will be applied to memberships on presentation of a valid Centrelink concession card.
Classes such as Yoga, Pilates, Tai Chi and Falls Prevention Exercise Programs may be offered in the IWC Gym Activity Room. The costs of these classes are additional to all Gym Memberships.
Upfront pre-paid memberships are non-refundable.
For full terms and conditions and more information, call (07) 4199 7555.