Annual Reports
2019-20 Annual Report
On behalf of the Board of Directors (Board) of the Indigenous Wellbeing Centre Ltd (IWC), welcome to the Annual Report for the Financial Year ending 30th June 2020.
The 2019-20 Financial Year has seen new challenges and new opportunities. It is impossible to mention 2020 without COVID impacts, and IWC has been here for all in our communities during this difficult time. After the pandemic was declared, IWC worked to ensure clients of Medical and Health services received continuity of care. IWC also continued, despite COVID, to build our range of services, particularly in Allied Health.
In this issue:
Message from the Board
Stakeholder Relationships
Strategies
Holistic Model of Care
Stage 2 Project
Reconciliation in Action
Aboriginal Terms of Reference
Key Achievements
North Burnett Project
Medical & Health
Community Services
NDIS
Cultural Healing Services
Organisational Profile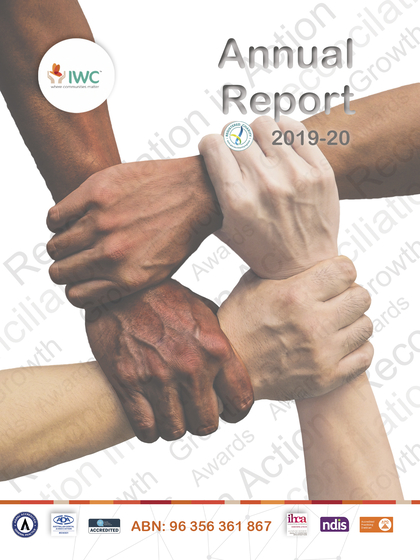 Get the report
See how IWC performed, grew and continued supporting our community in 2019 through 2020.
Download Now