Community
Women in Unity – Showing up for Bundaberg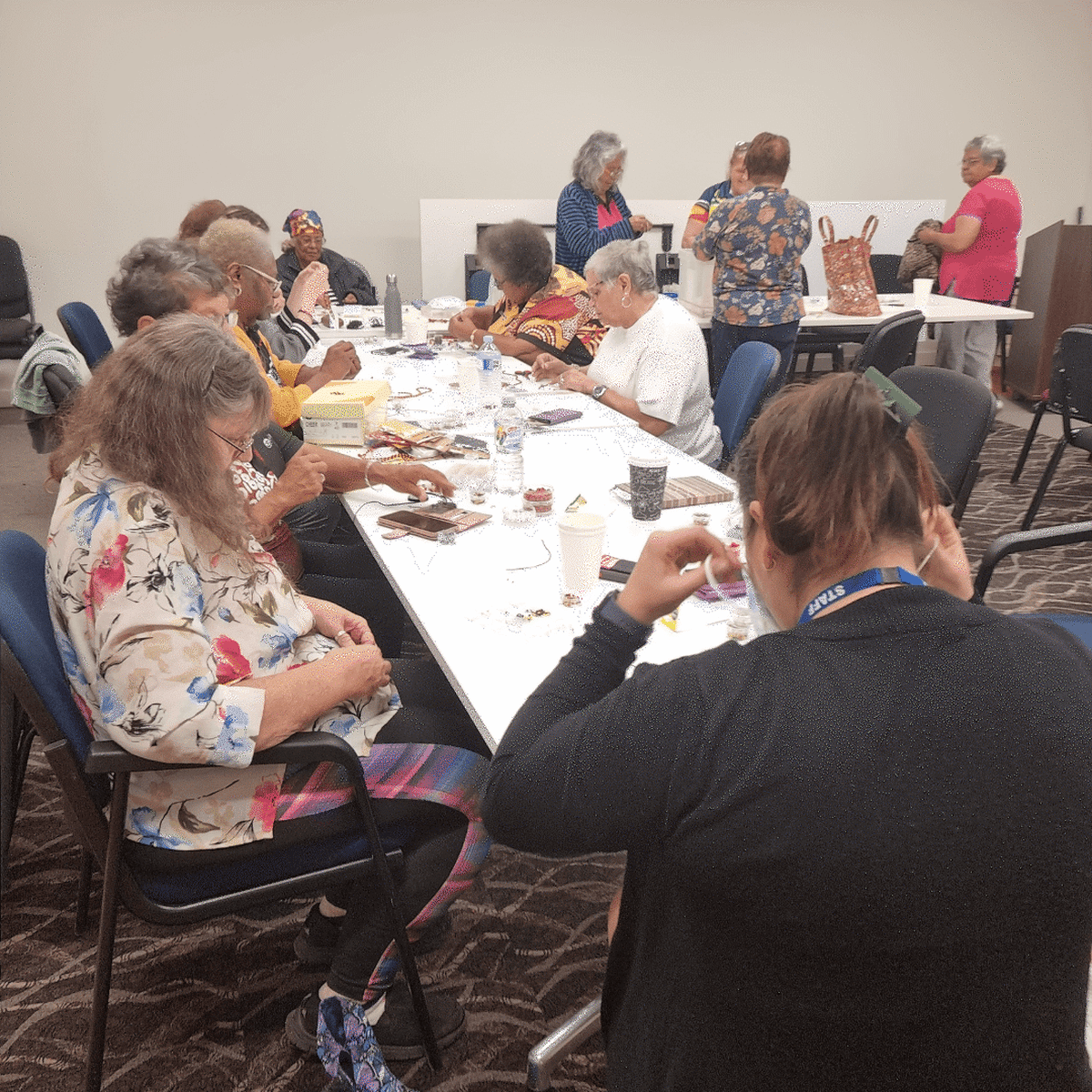 Women in Unity is a local Women's community born from the IWC Women's program that meets every Tuesday for a coffee, catch-up, yarn (or Gossip), a workout in the IWC gym, and lunch.
Formed 6 years ago, the group has grown and evolved over time. Aunty Jenny Springham formed the group through her role as a member of the Social, Health, and Wellbeing team, with a vision to create an opportunity to come together, empower each other, and offer support to each other.
The group, consisting of both elders and young members, is open to all. With non-first nations, women welcome to join in the activities. All members of the community are embraced by this group of women.
The time these women spend together has changed over the years, transforming into the Award-winning group it is today.
Last week, on the 30th of August, the group had its first Cultural Knowledge session of the year. They gathered together at IWC for a day of arts and crafts, created jewellery together, as they gossiped away happily.
As they beaded necklaces, bracelets and earrings, which they will be selling in order to fund their activities, they talked about why they value the group, and what they get from attending the group.
The consensus of what was said in the room was that the group was welcoming, non-judgmental, loving and supportive. Some women attend for emotional support, some for the social opportunity. Some love the culture that is constantly being shared amongst the members, while others feel safe with the lack of pressure to commit to attend every week.
The activity of the day was traditional – building and modelling relationships while doing women's business, only once upon a time this would have been done out bush, around a fire.
Their day concluded with a lunch, potluck style, each contributing delicious foods to share with their community. They noted they always get visits from Wayne (IWC CEO) and Uncle Ara (Manager of Governance and Strategy) every week, to check in on how the group is, though these visits generally coincide with the serving of food…
As the group grows in popularity, so does it grow in recognition, winning the NAIDOC Innovation award in 2022, and accepting invitations to programs such as the Bundaberg Special Schools, Adopt an Elder program.
The list of activities they are undertaking is also growing, with outings planned such as attending the Jimmy Barnes concert together, a trip to the Bargara Headland, and more traditional arts and crafts sessions.
Their meetings also offer further opportunities for education, with visiting speakers such as the Practicing Accredited Dietitians from Pivot 21 Allied Health Services, offering lessons on nutrition.
As the name of the group suggests, the core of this group is being unified as a community. Bringing sisters together, out of isolation, into a safe, social environment where they can learn, share culture and feel united.