IWC News
What on earth is happening with the Aboriginal flag?
DESPITE being a regional Queensland Aboriginal Community-Controlled Health Organisation (ACCHO) IWC has been forced to pay out thousands of dollars in royalties for using the Aboriginal flag on its free Indigenous health check shirts.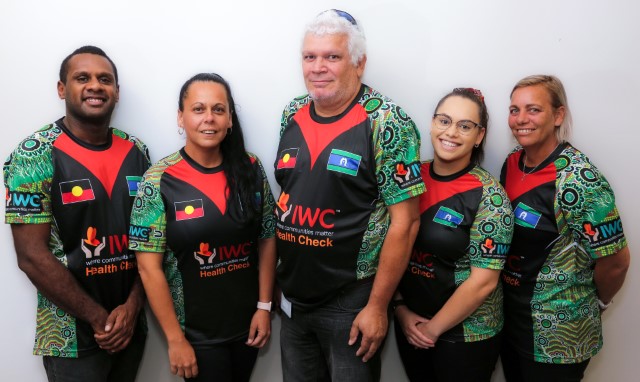 For the cost of each shirt bought by registered charity Indigenous Wellbeing Centre (IWC) to give away, a royalty of 20% plus GST has had to be paid out to the new owner of the flag's copyright, WAM Clothing.
IWC works in one of the most disadvantaged regions of Australia to improve health and wellbeing of communities.
The blow comes after WAM Clothing, a newly formed and non-Indigenous company, gained exclusive rights to reproduce the Aboriginal flag on clothing from its designer, Luritja artist Harold Thomas. Thomas designed the flag in 1971.
The news hit the media several months ago, with WAM Clothing reportedly sending several "cease and desist" notices to Aboriginal-owned businesses that use the flag on clothes, along with the AFL.
IWC CEO Ara Harathunian became concerned about the reports.
"As part of our Medical Centre, which is the Aboriginal Medical Service (AMS) for Bundaberg region, we provide Aboriginal and Torres Strait Islander people who are our patients with a free 715 Health Check shirt when they have their annual comprehensive check. This has the Aboriginal flag on it," said Mr Harathunian.
"These comprehensive MBS (Medicare Benefits Scheme) 715 Health Checks are a very important part of the way we deliver our holistic model of care. They support early intervention and prevention around health and wellbeing, and also enable us to help our patients manage existing or emerging conditions.
"They are offered to all Aboriginal and Torres Strait Islander peoples who are our patients, from babies through to the elderly. We give out many hundreds of these free shirts in a year."
IWC contacted WAM and explained the situation, including that the shirts were given out free of charge by an Aboriginal community-run medical service to Indigenous patients in a region of high disadvantage and poor health and wellbeing.
"We also made clear we were a charity," said Mr Harathunian.
"The response from WAM was an offer of a 5% discount on the 20%-plus-GST standard royalty fee, if we signed a confidentiality agreement. To say we are horrified by the whole situation is an understatement. It is a blatant cash grab.
"We have had no choice but to pay the money, which is $2200, and to remove the Aboriginal flag from any future IWC 715 health check shirts. This is a real shame, because it was put there with pride in the latest design by the Indigenous staff involved in developing this shirt.
"Both Indigenous and non-Indigenous employees of IWC are very disappointed at this situation but we simply cannot justify adding these royalties being charged by WAM onto the cost of every shirt given away."
There is widespread furore about the situation, with former Labor senator and Olympian Nova Peris saying this month: "In 1995 there was a proclamation made by the Governor-General to claim this flag as the flag of the Aboriginal people. So it was a flag before a legal copyright came over the top.
"We want equal rights to our flag like other Australians have equal rights to their flag. When you look at that flag it's symbolic of us as a race of people that goes back 50,000 years, even though it's only 48 years old."