Nutrition
Veterans' Health Week 2019
HEALTH and Wellbeing organisation IWC will once again be part of the 2019 Veterans' Health Week activities being delivered by the Bundaberg RSL Sub-Branch.
With the theme of "Mental Wellness", IWC's two Accredited Practising Dietitians will be delivering three free interactive sessions over the course of the week – all designed to support physical and emotional wellbeing of Veterans.
IWC is non-government, Aboriginal community-controlled and a registered charity, and is here for all in our communities.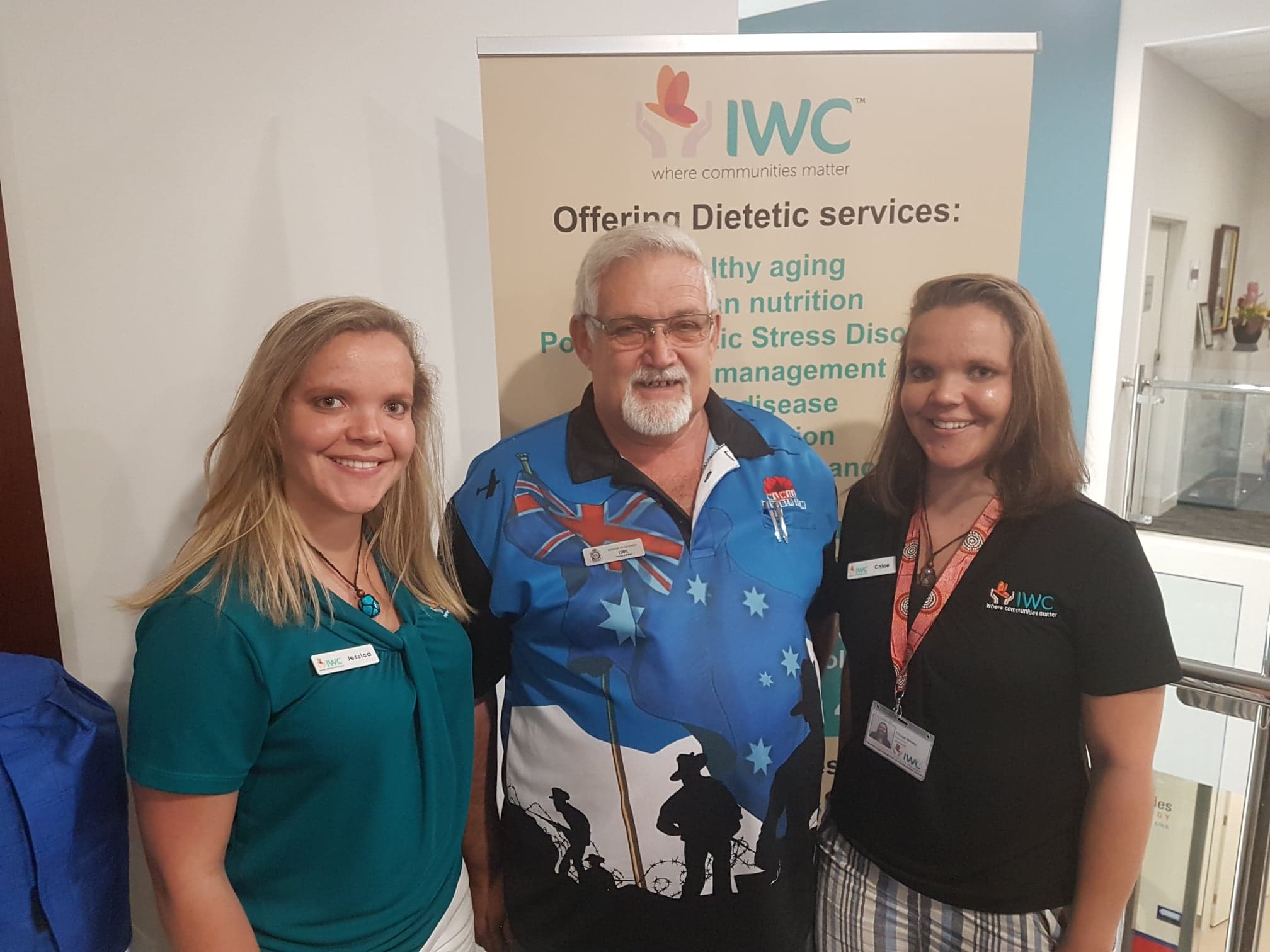 "Our community's Veterans, of all ages, have very specific health and wellbeing challenges, including Post Traumatic Stress Disorder (PTSD), hypertension, diabetes and high cholesterol," said IWC Dietitian Chloe Bauer.
"We welcome Veterans all year round, but we see Veterans' Health Week as a great way to spend time in group sessions, offering tailored advice and tips specifically for this group."
Veterans' Health Week runs from 26 October to 3 November, and Chloe and fellow IWC Dietitian Jessica Bauer will be presenting three sessions on Monday 28 October, Tuesday 29 October and Friday 1 November.
"The first will be all about Eating for Energy, with a hands-on cooking demonstration at the end," said Chloe.
"The second is titled Healthy Food, Happy Mind, and that session will involve food tastings.
"Session number three offers a Speed Date with a Dietitian. We will first drill down into making an individual meal plan that works for each person, according to their needs and tastes, and then we are one-on-one chats at which participants can bring their specific questions straight to us.
"Participants will go away with a take-home pack and, hopefully, feel more empowered and knowledgeable about their diet and nutrition and how that can help them have a happier and healthier life."
Advocate Eddie Stockill said Veterans' Health Week was an opportunity for our veterans to find out more about the supports they are entitled to access, as well as improve their general wellbeing.
"I've found veterans are unaware of what they're entitled to under the white card system, which covers anybody who has served for more than one day for mental health and other diseases that do need to be qualified by a doctor, but they can get instant coverage on a white card now," he said.
"Most people don't know that it's a simple process."
To book your place, contact Eddie Stockill at the Bundaberg RSL Sub-Branch on 07 4910 9595.
If you are not a Veteran, but would like to get some free advice from IWC's Accredited Practising Dietitians, IWC runs regular monthly Healthy Eating on a Budget sessions.
They are held from 9.30am on the third Friday of each month at the IWC Health & Wellbeing Complex, Level 1, 184 Barolin St, Bundaberg.
The sessions are delivered in partnership with the IWC NDIS Local Area Coordination Team and people of all abilities are welcome.