North Burnett
Players turn out in droves for charity day
RAIN did not stop play when IWC sponsored a charity golf day at Gayndah on Saturday 7 July.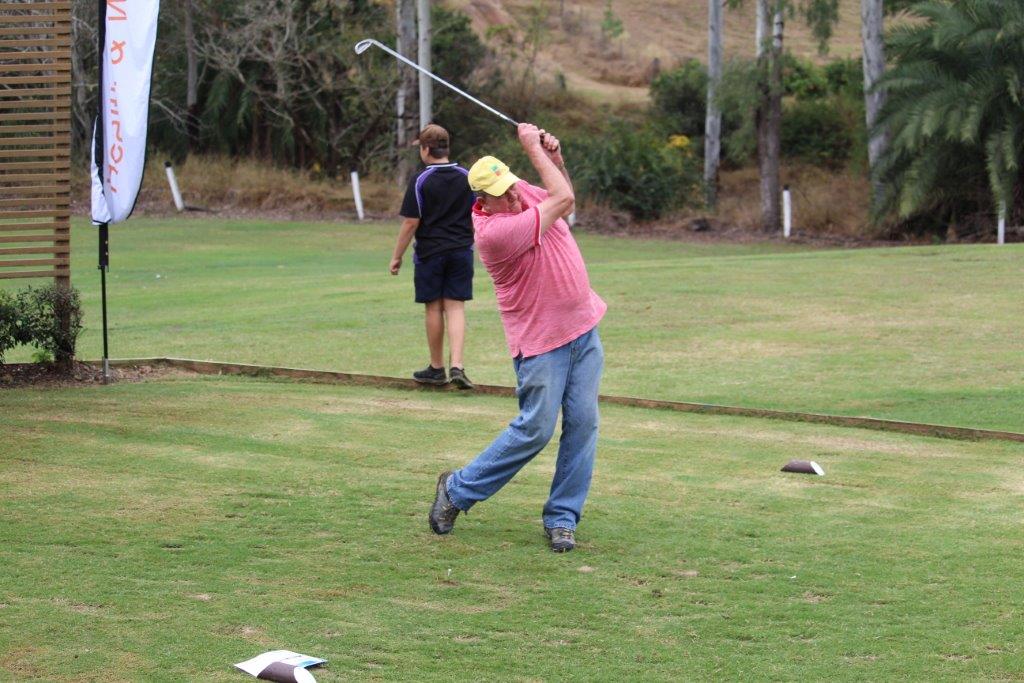 Despite the grey skies and intermittent rainfall, almost 50 players – and around 30 spectators and helpers – turned out for the fundraiser held by community-run health and wellbeing organisation IWC to support another good cause – LifeFlight.
"It was a terrific turnout on the day, and we have to thank Gayndah Golf Club for helping us stage this community event," said IWC North Burnett Assistant Manager Cynthia George. "IWC sponsored the event as a way of bringing the community together and it was held to mark the 2018 NAIDOC Week and Reconciliation Week."
The event was run in conjunction with Gayndah Golf Club, and Captains for the Day were Shaun Allen and Kirk Jolly.
"We would like to particularly thank volunteers Celia Wain, Di Baker, Lindsay Baker, Shaun Allen, Nicole Chapman, Jack George, Tristan George, Beth Stralow and Shani Burns, who all did a lot of work to make this a successful day. Di and Lindsay also provided a vehicle to deliver food and drinks around the course, which was a huge help, and provided great advice as well as volunteering their time," said Mrs George.
"North Burnett Councillor John Zahl was a volunteer, which we really appreciated, and IWC North Burnett Manager Jenni Toogood, IWC team members Clem Shadford, Kim Schafferius, Kristy Drayton, Kirsten Morris, Wendy Markwell and Bert Shadford also played a big part in delivering this community event, as did and Graeme O'Keefe"
Gayndah Golf Club member Di Baker said: "It's been great to see so many players on the day."
Mrs George said the event was about bringing people together in a fun environment, and one of the most hotly contested prizes on the day was a glass skull full of chocolates.
"People paid to guess how many chocolates there were in the jar – there were 141 as it turned out – and we raised a lot more money for LifeFlight just through that. The winner was Bert Shadford, who guessed 140."
Mrs George said the event raised more than $600 for LifeFlight, which would be presented to the local branch.
"LifeFlight does an amazing job for our community, and as a health and wellbeing organisation that is here for everyone we really appreciate the work they do," she said.
Prize winners:
Male Golfer Longest Drive – Mick Shadford (Ryan Mulvany of IWC donated prize back to second place-holder)
Female Golfer Longest Drive: Sally Jolly
Male Non-golfer Longest Drive: Damien George
Female Non-golfer Longest Drive: Samantha Wain
Male Non-golfer Shortest Drive: Jeff Hopkins
Female Non-golfer Shortest drive: Trina Whitby
Male Non-golfer Nearest to the Target: Damien George
Female Non-golfer Nearest to the Target: Gabe George
Female Golfer Nearest to the Target: Sally Jolly
All male players nearest to the pin: Kirk Jolly
All female players 2nd Shot: Cynthia George
No.3 Money Hole: Wayne Mulvany (donated prize back to second place-holder)
Team wins:
1st: Cynthia George, Wayne Mulvany, Ryan Mulvany (Wayne and Ryan Mulvany donated their winnings back into the raffle draw)
2nd: Nicole Chapman, Shaun Allen and Kirk Jolly
3rd: Glen Evans, Trevor Slack and Robbie Kirk
4th: Steven Jamieson, Peter Ulcoq and Mr Smith (sic)
5th: Di Baker, Lindsay Baker and Jack George
Bradman's Prize: Mick Burns, Declan Burns and Tyler Burns
Prizes for golfers and rolling raffles were provided by local businesses including:
S J Allen Constructions
Leah's Essential Beauty, Gayndah
Westside Takeaway & Convenience Store
Burnett Butchery Eidsvold
Wags Café Eidsvold
Bundaberg Golf Club
Golden Orange Hotel Motel, Gayndah
Mitre 10 Gayndah
Burnett Mapping, Mundubbera
A Little Different Café, Gayndah
Maddern Citrus Coffee
Billabong Restaurant, Mundubbera
Angela's Hair & Beauty, Gayndah
Gayndah's Big Orange
The Zen Den, Agnes Water
Lyn McConnell Photography, Bundaberg.
"Our warm thanks, too, to Kubler Family Bakery, Gayndah and Cam and Sue's Quality Meats, Gayndah for supporting this event with donations of meat and bread," said Mrs George.