Community
Play & Learn event for NAIDOC Week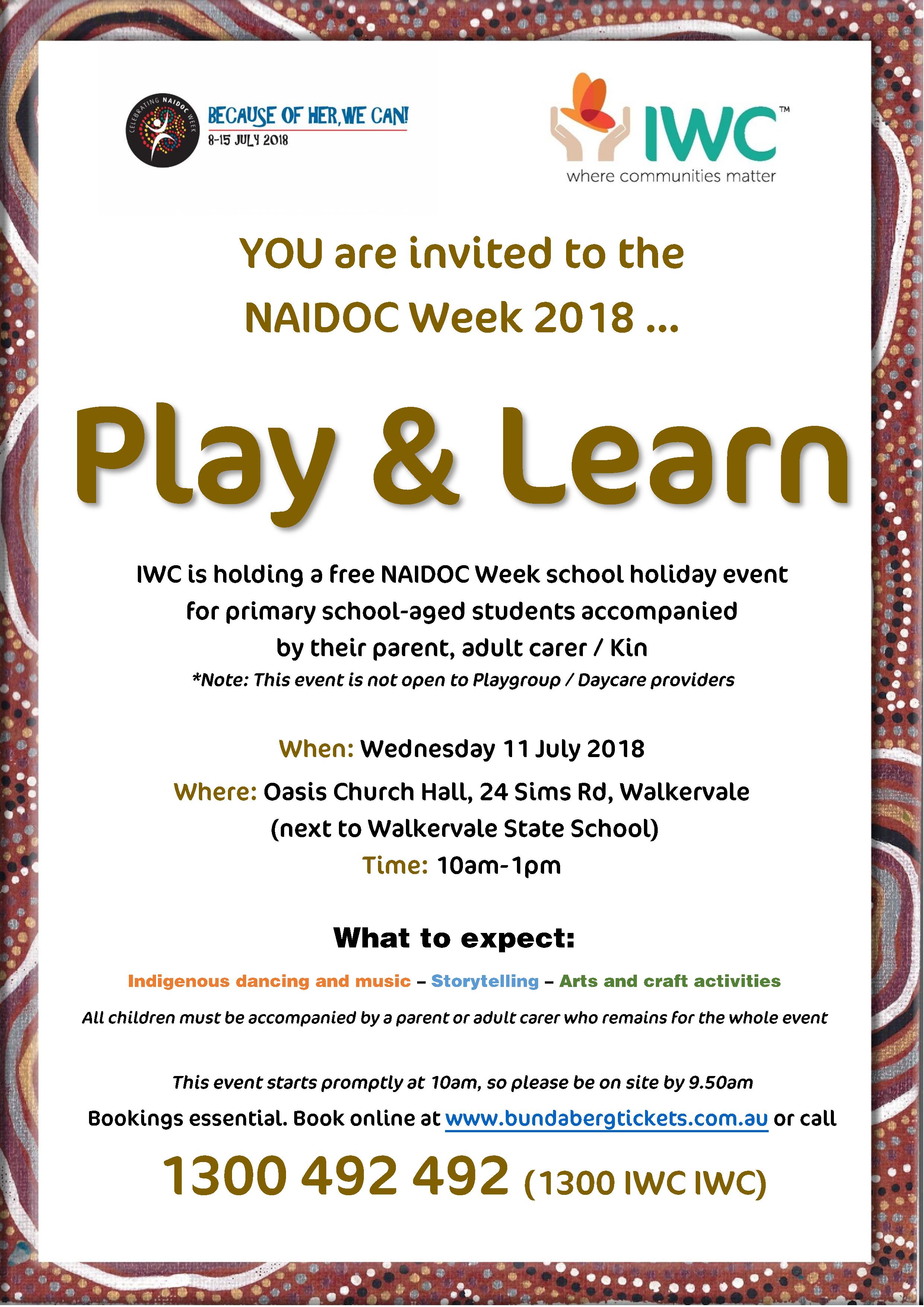 STORYTELLING, bubble pictures, dancing, music, beading, cupcake decorating and flag colouring – they're all lined up for the free 2018 IWC NAIDOC Play & Learn event on 11 July.
The free event is open to primary school-aged children accompanied by a parent or carer, and there is a serious purpose behind the fun.
"These sessions are focused on building language skills, literacy and brain development within our young children, and are part of our holistic model of whole-of-person care," said IWC Director Aunty Cheri Yingaa Yavu-Kama-Harathunian.
"The activities to be delivered in the session are engaging for both the child and their parent or carer, and also build skills and abilities. Learning can be a lot of fun, and that's an important message for parents and children alike.
"For example, creating bubble pictures exercises key muscles in a young child's face that, if under-developed, can lead to speech difficulties. Beading helps motor skills, dance builds coordination, and colouring builds concentration."
IWC is non-government and Aboriginal community-controlled, offering services to both Indigenous and non-Indigenous people across Bundaberg and the Wide Bay Burnett.
The Play & Learn events have been run by IWC during school holidays since early 2016, and they are open to both Indigenous and non-Indigenous children.
"We deliberately run Play & Learn during NAIDOC Week because it is an important event for IWC as we work to deliver Reconciliation in Action every day through our operations," said Aunty Cheri, an Aboriginal Traditional Owner and Elder. "The Play & Learn session will be culturally responsive, and include Indigenous dancing and music, Aboriginal stories and flag-colouring – the Aboriginal, Torres Strait Islander and Australian flags are all featured."
Aunty Cheri added: "These events involve both the child or children and a parent/carer, who are required to stay at the event and participate with the children. It is about building understanding and knowledge around how playtime is also a learning experience for parent and child together."
The event runs for three hours from 10am-1pm at the Oasis Church Hall, 24 Sims Rd, Walkervale. Bookings are essential. Visit IWC's Facebook page.