Clinic News
IWC Health team gets creative to support Indigenous wellbeing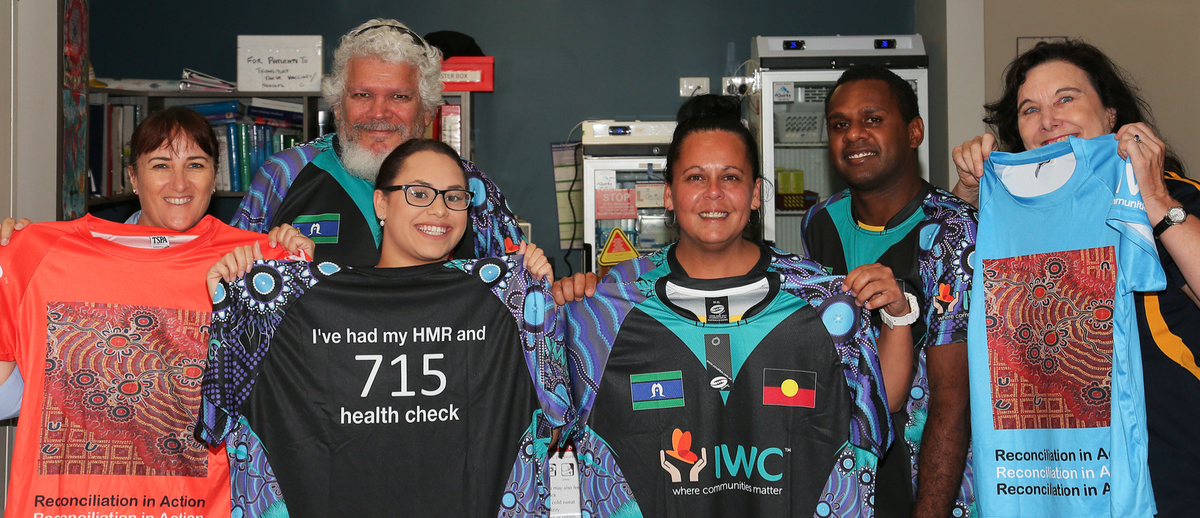 IWC Indigenous Health Practitioners have shown their creative side by helping to design a stylish new t-shirt to build wellbeing in our communities.
The new IWC t-shirts support the work of the Aboriginal community-controlled organisation in the areas of Aboriginal and Torres Strait Islander Health Checks, otherwise known as 715 Health Checks.
"The 715s are comprehensive annual health checks for Aboriginal and Torres Strait Islander peoples, and IWC has been working hard in this area for a decade to build community awareness around the importance of these," said IWC Director Cheri Yavu-Kama-Harathunian.
"We are providing these t-shirts to any Indigenous Australian who undergoes their 715 Health Check through IWC's health and medical services."
The team behind the design of the shirts are the Indigenous Health Practitioners based at the IWC Health & Wellbeing Centre in Bundaberg.
"They have done a great job, drawing on the IWC painting which depicts our whole-of-person and holistic model of care," said Aunty Cheri, an Aboriginal Elder and Traditional Owner.
Aunty Cheri said IWC started delivering Primary Health Care in 2006-07, and in the past decade had helped to drive positive transformation in our communities.
"In 2006-07, the numbers of Indigenous peoples in our region accessing Primary Health Care stood at 43%, compared to the national average of 48%. Today, in the region covered by IWC, 84% of Indigenous peoples access Primary Health Care, while the national average sits at 54% according to Australian Medical Association (AMA) figures," she said. "The work of IWC in delivering health and wellbeing services for all, without barriers or discrimination, is paying significant dividends for the community."
IWC is non-government and a registered charity, providing services and programs for all people, Indigenous and non-Indigenous. It has more than 12,000 clients and growing. It was featured in the Prime Minister's 2017 Closing the Gap report for its work in building the health and wellbeing of communities.
The t-shirts join the popular IWC Reconciliation in Action t-shirts which are worn widely in the community.
"While the 715 t-shirts are specifically for the Indigenous checks, anyone – Indigenous or non-Indigenous – who has a Care Plan or whose health is being case managed by IWC can go into a weekly draw at our medical centre at the Health & Wellbeing Centre to win one of the IWC Reconciliation in Action shirts," said Aunty Cheri.
"We value all of our clients and supporters, and t-shirts are an easy way for people to demonstrate their backing for the unique IWC model of care that is delivering real outcomes in our region for all people."
The Reconciliation in Action t-shirts can also be purchased at the IWC offices for $25.