IWC News
IWC Health and Wellbeing Centre chosen to deliver Bundaberg's Medicare Urgent Care Clinic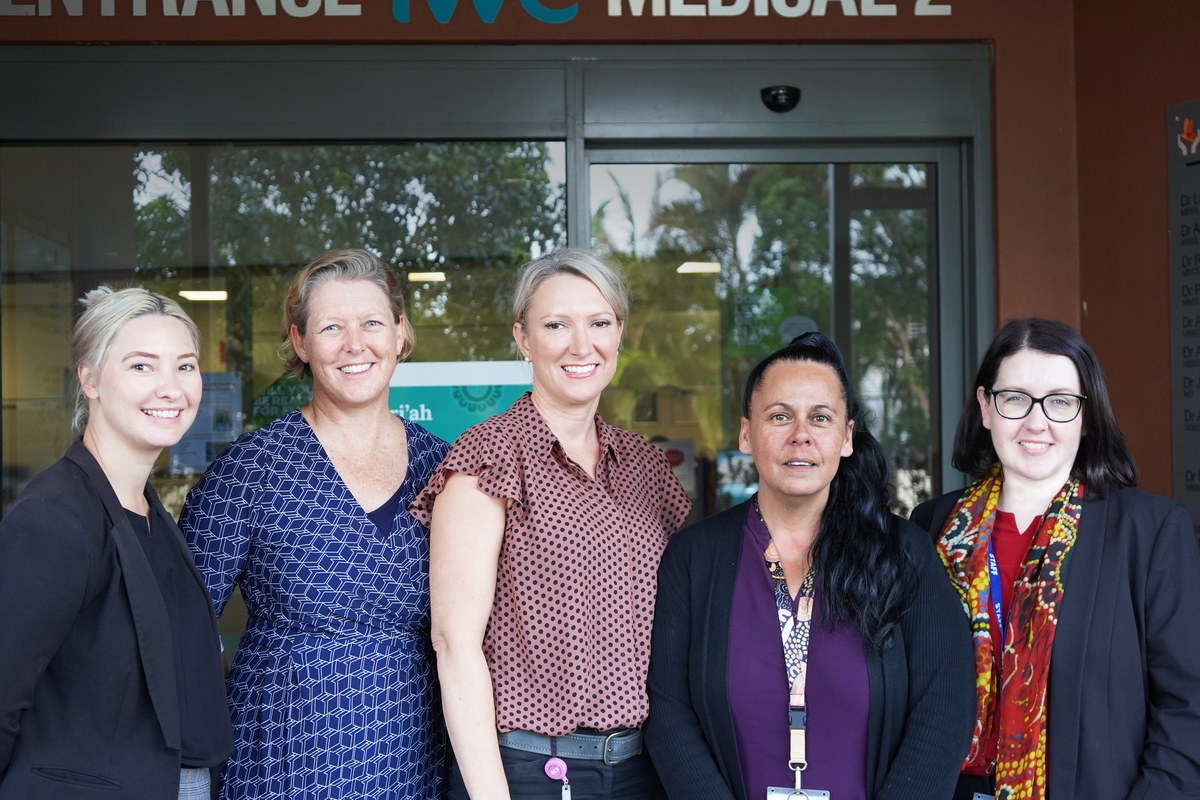 Tayla Lankowski (IWC Urgent Care Clinic Manager), Louise Natusche (CCQ Country to Coast Senior Manager Regional Programs), Dr. Alicia Kohn (IWC Medical Director), Lisa McGrady (IWC Aboriginal and Torres Strait Islander Health Practitioner), Kathy Clarke (IWC Chief Operations Officer).
IWC is proud to announce its selection as the exclusive provider of the Medicare Urgent Care Clinic for the Bundaberg region with its doors partially opening from 20 November 2023.
The Bundaberg Urgent Care Clinic makes up one of 11 Medicare Urgent Care Clinics (UCCs) committed for Queensland during the most recent federal election and marks a pivotal moment in advancing the standard of healthcare accessibility for the residents of Bundaberg.
The Bundaberg UCC will provide episodic treatment for minor injuries and illnesses that are not life-threatening, where the patient is unable to get an appointment with their usual GP.
Medicare UCCs aim to reduce the pressure on hospitals and the emergency system, providing more capacity for patients with life-threatening injuries and illnesses to be prioritised with a greater level of urgency.
Mr Wayne Mulvany, IWC Chief Executive Officer, said: "As the designated provider of Bundaberg's Urgent Care Clinic, IWC is committed to delivering quality care and treatment, for everyone in our community."
"This is a new service and there will be an initial settling period where we'll operate on our normal business hours of 8 am to 5 pm until we ramp up to full operation in early 2024 with availability of the service on extended hours."
When the clinic opens, Bundaberg locals will be able to receive bulk-billed care and treatment of acute conditions that don't require emergency treatment.
Some of the specific conditions Medicare UCCs can provide treatment for, include respiratory illnesses, UTIs, gastrointestinal illnesses, STIs, and minor injuries including minor fractures, simple lacerations, simple eye injuries and minor burns.
Dr. Alicia Kohn, IWC Medical Director, said: "While the introduction of Medicare UCCs is an exciting and important development for the nations health care, it's important that the public understands that these clinics are not a replacement for seeing your regular GP. GPs have a close relationship and documented history with their patients and patients should still attempt to see their regular GP for non-urgent, routine and chronic conditions."
Mr Mulvany shared his excitement on the significance of the development for IWC, in particular.
"IWC is an example of what can be achieved by organisations such as ours, " he said.
"Since our beginnings, our organisation has been committed to delivering truly inclusive services, by developing services built around our holistic and culturally responsive foundations and then making them available to everyone in our community. The Bundaberg Medicare Urgent Care Clinic is another way we're demonstrating this ethos to everyone in our community.