Health & Wellbeing
IWC Dental leads the way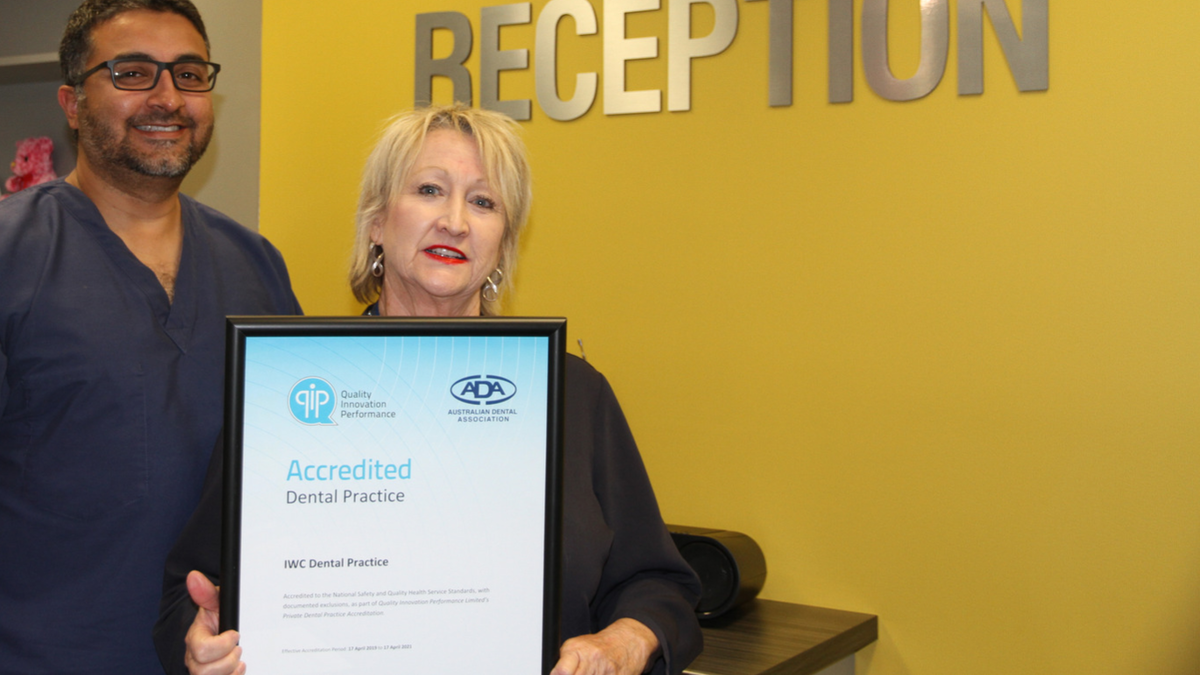 IWC Dental Practice has reached a new milestone, achieving Quality Innovation Performance (QIP) Dental Practice Accreditation.
QIP is Australia's most comprehensive not-for-profit accreditation agency, and the process of proving IWC's quality was a long one for our dental and Executive staff.
Dr Imran Habib, senior dentist at IWC Dental Practice, said the new accreditation was a testament to the skills and professionalism of the staff.
"Achieving this accreditation involves ticking many boxes, from ensuring that the practice meets the standard guidelines of the Australian Dental Association, which are ranked highest in the world in terms of safety," he said.
"Each box requires you to prove something. It's not just a sticker you can slap on documents or on our doors, it says a lot about this practice in that it meets the standards of the ADA, and not every practice – or not many, in Australia – is accredited."
The practice sits within the IWC's holistic model of whole-of-person care, and delivers services without discrimination to all people, both Indigenous and non-Indigenous.
The QIP joins IWC's list of existing accreditations, which include AGPAL (Australian General Practice Accreditation Limited), HSQS (Human Services Quality Standard) and ISO 9001:2015. IWC was the first Aboriginal community-controlled organisation in Queensland to achieve the ISO Quality Assurance accreditation almost a decade ago, and has maintained it since.
IWC General Manager Wayne Mulvany said that the ethos of the IWC Dental Practice reflected the organisation's charitable status.
"A primary expectation on IWC Dental Practice is to provide affordable, client-centric dental care that offers patients choice and ownership of treatment," he said.
"IWC stands alone in the Bundaberg and Wide Bay / Burnett, an area of high disadvantage, as the provider of solution-focused, low-cost dentistry for all, without barriers.
"As with all IWC services, our Dental Practice is culturally responsive."
Mr Mulvany said core goals of IWC Dental Practice were based on affordability, accessibility and compassionate care.
"By this we mean a focus on relief of pain and discomfort, treatment within an acceptable timeframe and achievement of a 'dentally fit' state," he said.
"This incorporates planning of treatment to match patients' financial capacity, provision of competent, courteous and effective service, and an empathetic consultation, to identify patients' desired outcomes.
"We work to support patients in understanding that care choices belong to them. This is an important part of empowering and building capacity around health and wellbeing for individuals and families."
Dr Habib said the holistic approach to dental services was one that made a real difference.
"It's a wonderful experience working at IWC," he said.
"Every day is a learning curve for us, especially the fact that IWC's clientele vary due to the fact that our prices are very competitive, and we do pull from a very multicultural base.
"We don't have a specific type of patient who fits a certain kind of category. We also have patients who come in under the Federal Government's Child Dental Benefits Scheme. In that way it's a broad spectrum.
"The staff are really friendly, welcoming, and it's very rewarding in the fact that we're not only business, we're out here to help society."
IWC Dental welcomes new patients, and is offering a special introductory offer of $175 in July and August for a comprehensive examination, x-rays and scale and polish. To find out more or book an appointment call 1300 492 492 (option 2).