IWC News
Everyone a winner in Aboriginal bowls tournament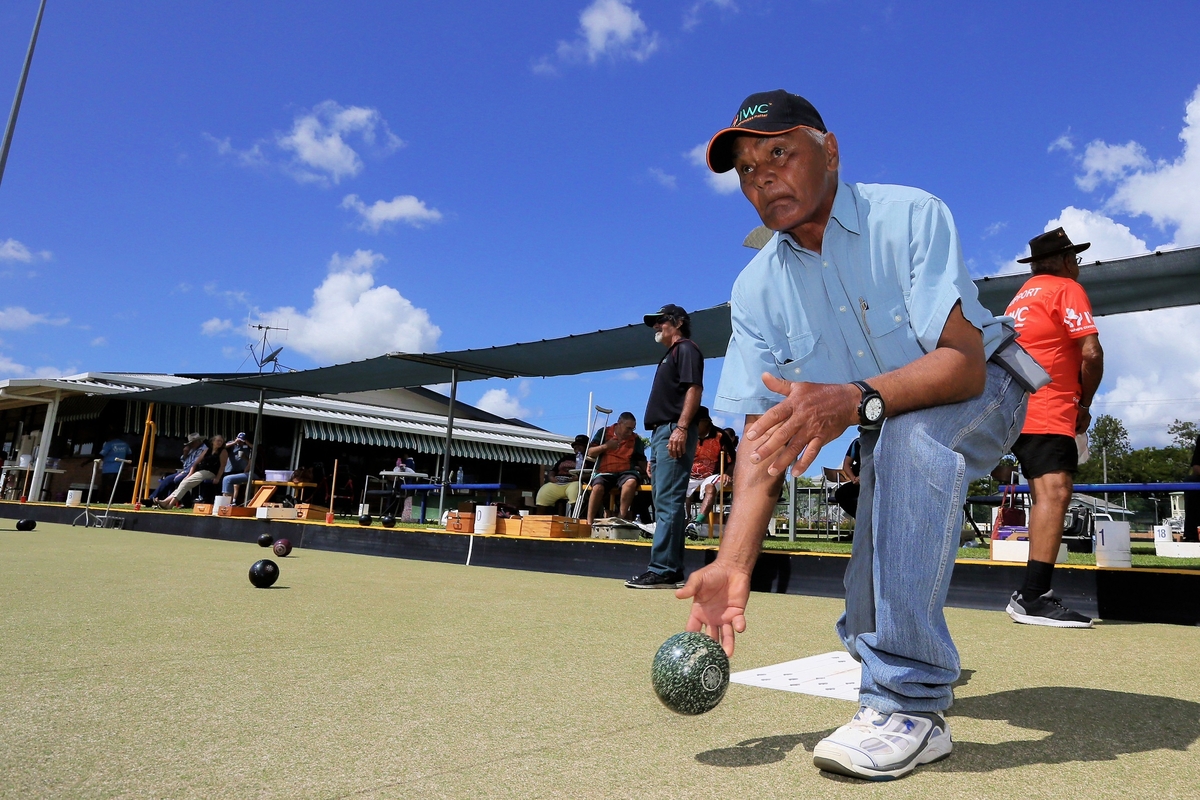 THE games were fun but the intentions were serious when Indigenous seniors from North Burnett and Bundaberg went head-to-head in a Loving Life Lawn Bowls Tournament on 18 April. Everyone wanted to take home the trophy.
The tournament, held at Burnett Bowls Club in Bundaberg, was the culmination of an innovative Loving Life initiative run by Health & Wellbeing organisation IWC. The initiative was designed to build social interaction and physical activity among older Aboriginal people.
One of the more experienced players was Eidsvold man Ronald Bligh, who travelled in with the IWC North Burnett team.
"I've been playing for about 22 years," he said. "It's really good. You get a bit of laughter, you meet different people, anybody can pick it up and it's good for you."
While the sun was hit and miss, there was no rain on the day. Laughter and camaraderie filled the Club as the two teams took to the green, and while the North Burnett team left with the trophy on the day; everyone agreed that all the participants were winners.
"It's great, really great. It's helped my husband out so much," said Bundaberg team member Janeen Jordan, who took part with husband Barry. "Barry has oxygen deprivation to the brain, because he has COPD (Chronic Obstructive Pulmonary Disease), and this has helped him so much – the exercise as well as interacting with other people."
Jenny Springham, who has headed the initiative for IWC, said the program had taken off because it was developed to meet the needs of Indigenous seniors in the region.
IWC is non-government, Aboriginal community-controlled and a registered charity that has more than 12,000 clients, Indigenous and non-Indigenous. IWC delivers a unique holistic model of care that supports whole-of-person health and wellbeing, both physical and emotional, and is committed to Reconciliation in Action.
"The Loving Life initiative came about as a result of consultation with Traditional Owners and Elders," said Jenny. "Many older Indigenous people suffer significant health issues, and gentle exercise combined with social interaction is a very positive way to combat these.
"We decided to trial a range of suitable exercises in supervised sessions, and these included aqua aerobics, low-impact exercise and lawn or carpet bowls. Of them all, the lawn bowls proved the most popular."
More than 30 seniors took part in the Loving Life Bowls Tournament, with a busload being transported into Bundaberg from the rural and remote areas of the North Burnett.
"Our Indigenous seniors in North Burnett like sharing time with their peers who may live some hours away in the Bundaberg region, and this was a great opportunity for a healthy, happy, inclusive event that they thoroughly enjoyed," said Jenny.
Participants came from as far afield as Eidsvold, Gayndah and Mundubbera.
Chris Pickwick, a member and volunteer at Burnett Bowls Club, was impressed by the skills being shown by many bowlers new to the sport.
"There's some pretty good form there, from quite a few of them," she said.
With the level of enthusiasm for the Loving Life initiative, the game may go on past the initial program end date.
"This has been a great initiative that, through our IWC operations, we have been able to make accessible to Indigenous and non-Indigenous seniors right into the remote areas of Bundaberg and North Burnett, and we would like to continue it if possible," said Jenny.
"IWC is now exploring the possibility of regular ongoing bowls sessions and ongoing Loving Life Bowls Tournaments."
Mrs Jordan said she could certainly see the value for herself and husband Barry.
"Best thing we ever did was join the IWC," she said. "He's far more energetic at home, and everyone at the IWC is just beautiful … they're fabulous."