Community
Elders share memories with students
DAYS gone by came to life to students at Eidsvold State School on 28 June, when Traditional Owners / Elders from the community shared their childhood stories.
Groups of students took turns to listen and learn from the Traditional Owners, who opened up a window on a world that now lingers only as memories and stories.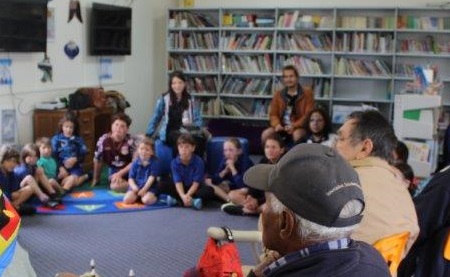 "The students, which were mixed age groups from prep to seniors, heard how very different things were for children and teens 50 and 60 years ago," said IWC North Burnett Assistant Manager Cynthia George.
"No school uniforms, no hats, no tuckshop, no transport – children in those days would walk, or travel by horse, up to one-and-a-half hours to get to school. At 12 years old, many were working.
"Aunty Nancy Beezley told them about how the students of her era would use slates, not paper and pen pencil, and Mr Ronald Bligh shared his story of how he was droving from the age of seven, and had to go out to work at the age of 10.
"Mr Kit George explained to them how he had just one day in Grade 7 because his father died, and he had to leave school and become the head of the household.
"Other Traditional Owners who took part were Mr Stanley Beezley, Uncle Les Hegarty, Mr Ian Bayles, Mr Norman Hill, Mr Frank Lister, Mr Kit George and Mr Todd Mailman."
IWC North Burnett Manager Jenni Toogood said the all-day yarning session was held as part of the NAIDOC Week 2018 celebrations.
"IWC would like to thank Eidsvold School principal Graeme Weatherburn for this opportunity," said Jenni.
The groups of around 25 students were able to have half-hour sessions with the Elders, and the questions came thick and fast.
"When the Elders were asked by the students, 'what advice would you give us?', the response was unanimous," said Cynthia. "They said: 'Have respect for people and learn as much as you can, because what you learn now is going to drive the world."
Cynthia said the students, both Indigenous and non-Indigenous were able to say "hello", "good morning" and "goodbye" in the traditional Wakka Wakka language.
Jenni said: "This was a real intergenerational sharing of culture, and one that IWC was proud to support."
The event ended with handshakes all round.