Community
Cultural Responsiveness supports Reconciliation in Action
NATIONAL Reconciliation Week 2019 starts on Monday May 27, with this year's theme being 'Grounded in Truth, Walk Together with Courage'.
It is a week that for IWC, an Aboriginal community-controlled organisation here for all people in our communities, is core business. We are committed to delivering Reconciliation in Action every day.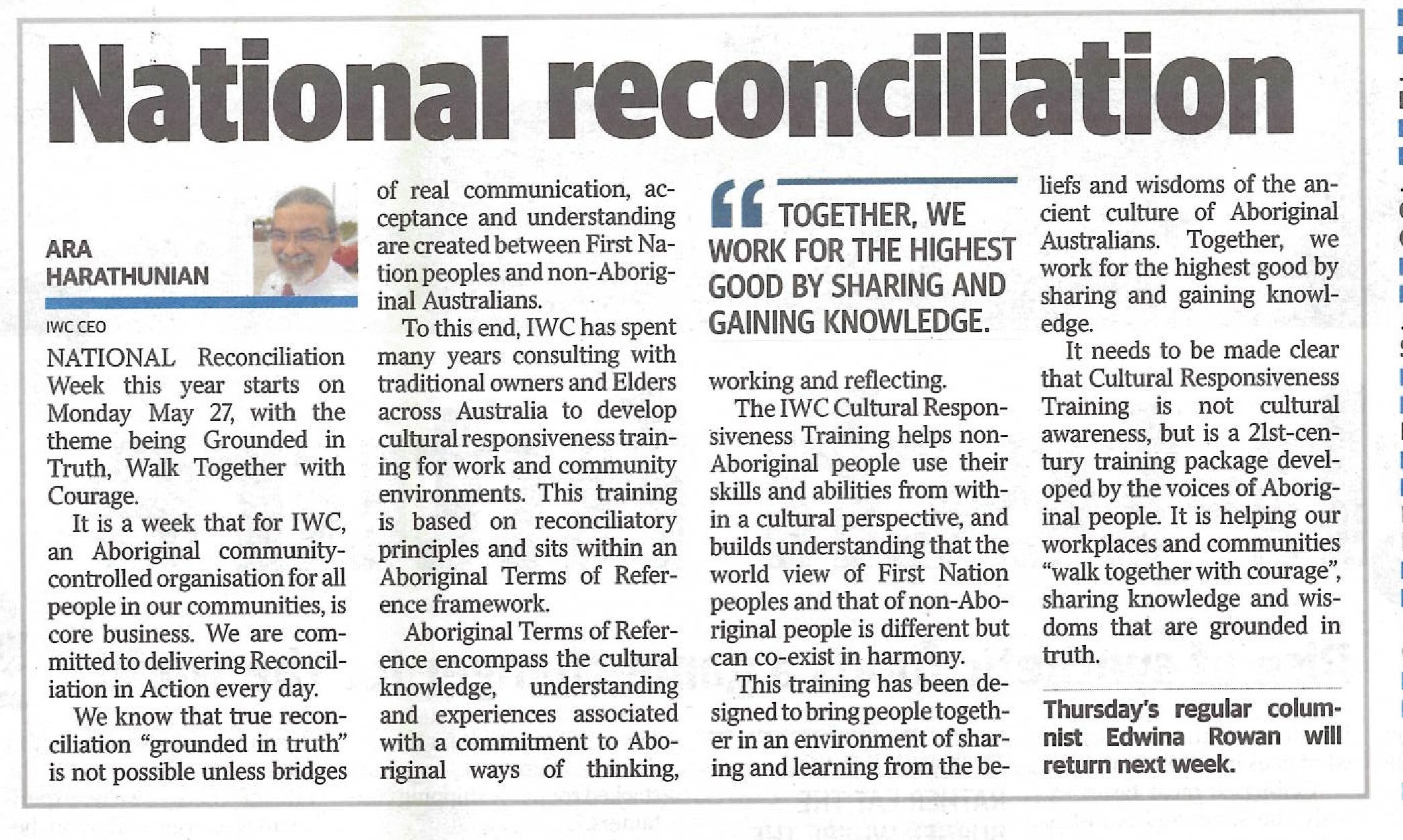 We know that true reconciliation "Grounded in Truth" is not possible unless bridges of real communication, acceptance and understanding are created between First Nation peoples and non-Aboriginal Australians.
To this end, IWC has spent many years consulting with Traditional Owners and Elders across Australia to develop Cultural Responsiveness Training for work and community environments. This training is based on Reconciliatory principles and sits within an Aboriginal Terms of Reference framework. Aboriginal Terms of Reference encompass the cultural knowledge, understanding and experiences associated with a commitment to Aboriginal ways of thinking, working and reflecting.
The IWC Cultural Responsiveness Training helps non-Aboriginal people use their skills and abilities from within a cultural perspective, and builds understanding that the World View of First Nation peoples and that of non-Aboriginal people is different but can co-exist in harmony.
This training has been designed to bring people together in an environment of sharing and learning from the beliefs and wisdoms of the ancient culture of Aboriginal Australians. Together, we work for the highest good by sharing and gaining knowledge.
It needs to be made clear that Cultural Responsiveness Training is not Cultural Awareness, but is a 21st-century training package developed by the voices of Aboriginal people.
It is helping our workplaces and communities "Walk Together with Courage", sharing knowledge and wisdoms that are grounded in truth.