IWC News
Complex expansion powers community capacity in times of need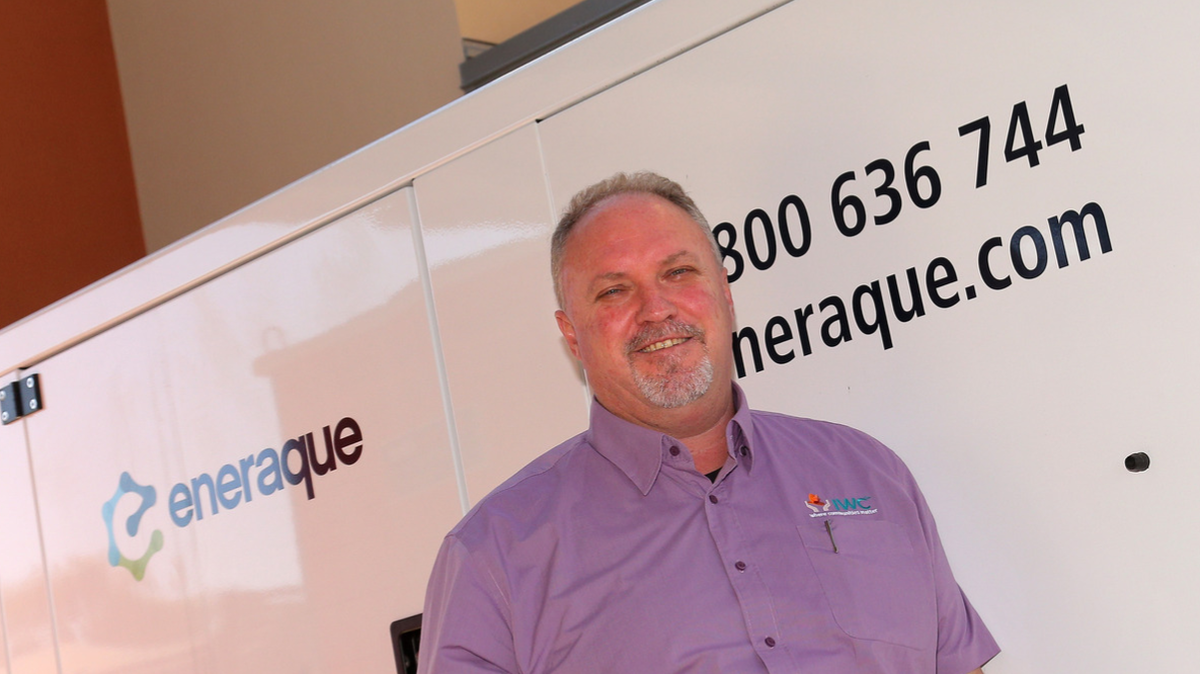 STAGE 1 of the IWC Health & Wellbeing Complex in Bundaberg was multi award-winning, but Stage 2 could be a lifesaver in the event of another major natural disaster or contagious outbreak.
Because nestled within its solid walls, set in a flood-free zone, sits two major innovations.
One is a 350kva generator with a six-cylinder diesel engine with a price tag of more than a quarter of a million dollars that will keep the purpose-built health and wellbeing facility expansion going when the power goes off.
The second is a pair of Isolation Suites, which can be put into action in the event of a major contagion hitting the region requiring patients to be separated from the mainstream medical and health operations.
"The generator is powerful enough to ensure that, once the Stage 2 expansion of the complex is completed, we can keep going in a disaster situation," said IWC General Manager Wayne Mulvany (pictured with the generator).
"In the past two major floods, in 2010/11 and 2013, and during other cyclonic episodes including tornadoes and storms, medical facilities across Bundaberg region were forced to close their doors.
"With this generator, the IWC Health & Wellbeing Complex will be able to provide a facility that can maintain primary health care services to our community."
Stage 2 of the IWC Health & Wellbeing Complex is a $19.8 million project, with the $14.8 million construction costs co-funded by the Australian Government's Building Better Regions Fund, which has provided $7.4 million to IWC.
Mr Mulvany said: "IWC takes very seriously our community obligations and has initiated this key piece of infrastructure that will significantly value add to disaster management.
"We see this as a major boon for our community. As well as being able to continue operations ourselves, we would invite other medical / health professionals into the facility during a period of emergency so that the people in Bundaberg can have the health supports they need."
IWC is Aboriginal community-controlled, multi-accredited and award-winning health and wellbeing organisation that provides services to all people, Indigenous and non-Indigenous. It started operations in 2002, and in 2014 opened Stage 1 of the IWC Health & Wellbeing Complex.
Mr Mulvany said: "Since the 2013 floods, Bundaberg region now has the Multiplex facility to provide shelter for people in the event of forced evacuation from their homes. IWC is proud to be able to offer this facility as an ancillary to that evacuation centre – this can be the community care and medical hub that will be needed in a time of emergency."
He said the Isolation Suites in Stage 2 would be another important addition to the region, and support containment of managing contagious situations.
"Because this is purpose-built as a clinical facility, we have been able to incorporate this capacity into the design," he said."
"When we community needs this, the Isolation Suites will be there, ready to go. In the meantime, it can be used within normal operations."
Due to open within months, the Stage 2 expansion will expand the range of services offered by IWC to the whole community, including more Allied Health Professionals and Specialists.