Community
Art imitates life at Shalom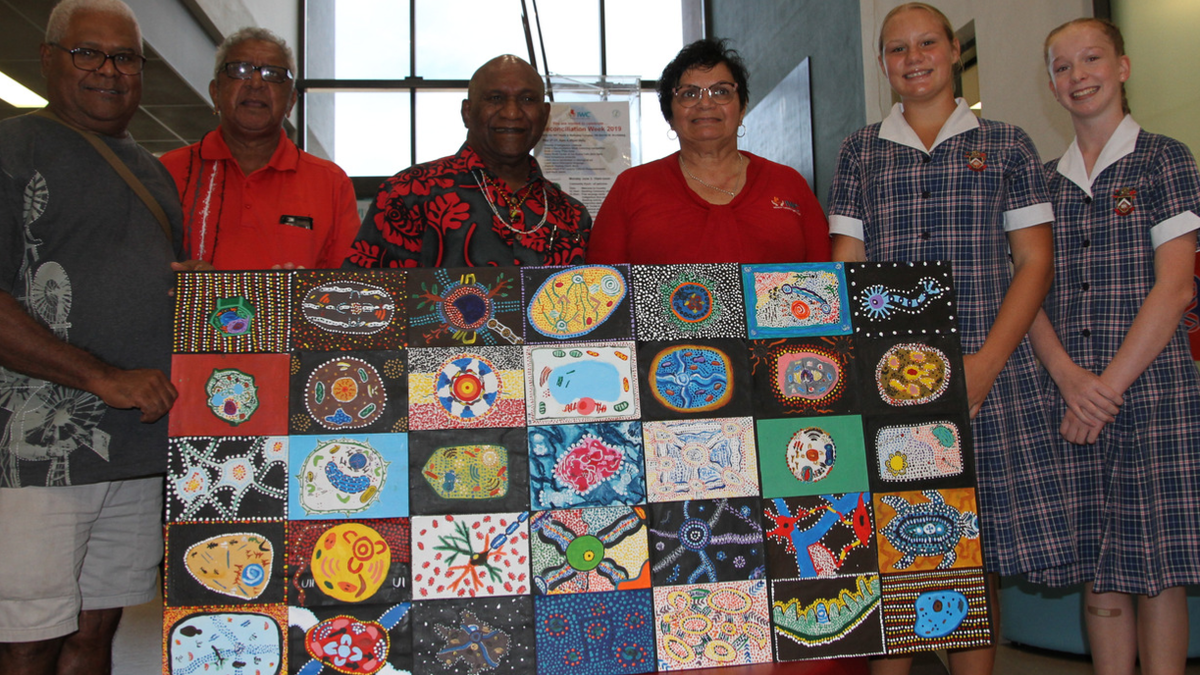 IWC has kicked off its Reconciliation
Week 2019 celebrations with a little bit of help from Shalom College.
The Year 8s from the school worked together to bring the project to the community, which shows how the cell structures of plants and animals at a microscopic level are often mirrored in the art of Indigenous Australians.
The art "cells" project started in term one of this year, with local Indigenous artist Wakka Boy (Adrian Munro) visiting with the students to advise on the sorts of patterns to use and what their meanings were.
Tyla and Molly (pictured) were able to come along to present the collective work of Shalom's year 8 students to IWC.
"We had a group of about three or four that made one or two pieces of art . Our class chose to do a plant cell and an animal cell," Tyla said.
It was the second time the pair had worked on a project like this since year 1.
"In grade 1 and prep we did this Aboriginal art board that was hung up at St Mary's and we did design our own little A4 piece and take it home," Tyla said.
Bringing Aboriginal shapes and motifs together with biological structures is a concept being explored by the Australian Regenerative Medicine Institute at Monash University. In her work she seeks to explore more about the link between the spiritual and the biological.
To learn more about it, read this interview with Professor Nadia Rosenthal.
IWC thanked the students for their support and effort, with the piece now on display in the foyer at the IWC Health and Wellbeing Centre, 184 Barolin St, Bundaberg.
To learn more about Reconciliation Week visit the IWC Health & Wellbeing Centre from 8am-5pm throughout this week (closed for Show Day on Thursday).
On June 3, IWC will mark the end of Reconciliation Week 2019 with a Community Celebration, running from 10am-noon. All are welcome.