North Burnett
All smiles at North Burnett NAIDOC
THE IWC North Burnett 2019 NAIDOC Community Event brought Indigenous and non-Indigenous people together on Saturday 13 July for a day of fun, games and cultural activities.
People of all ages turned out for the event, which was held at the Lions Park in Gayndah, and ran from 10am-1pm.
"It was great to see so many come along," said IWC North Burnett Assistant Manager Cynthia George. "This included residents from the Gunther Retirement Village, who enjoyed a cuppa with a helping of homemade damper and syrup – made by local Elder Kit George – and a sausage on bread from the free sausage sizzle. Several residents also had a go at boomerang and clapstick painting overseen by IWC Support Worker Kim Schafferius.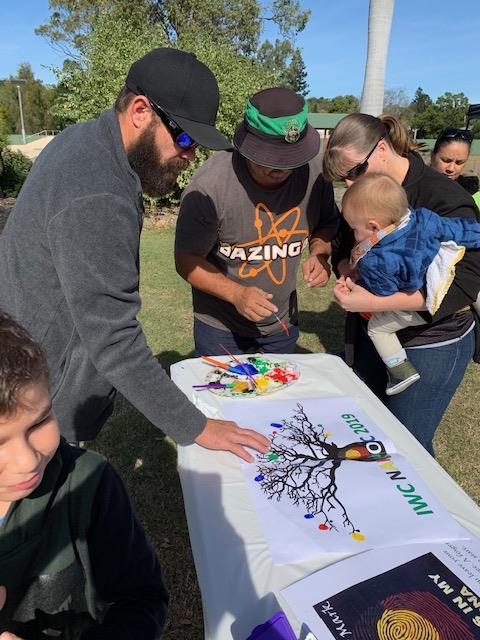 IWC is non-government and an Aboriginal community-controlled organisation delivering Reconciliation in Action every day.
It has a permanent base in North Burnett, and offers health and wellbeing services to all people, Indigenous and non-Indigenous, without discrimination across the region.
There was a packed agenda at Saturday's NAIDOC event, including the creation of an IWC NAIDOC tree of life, created by IWC Health Worker Sharaina Leha.
"Everyone added their fingerprints, to make the leaves, and this Tree of Life will now take pride of place at the IWC clinic in Gayndah," said Ms George.
Boomerang throwing was led by IWC Health Practitioner Clem Shadford, while IWC Receptionist Kirsten Morris and Support Worker Bert Shadford kept the tea, coffee and sausages on bread coming.
Another popular game was the IWC's version of a "toss sock game", which was particularly enjoyed by the youngsters.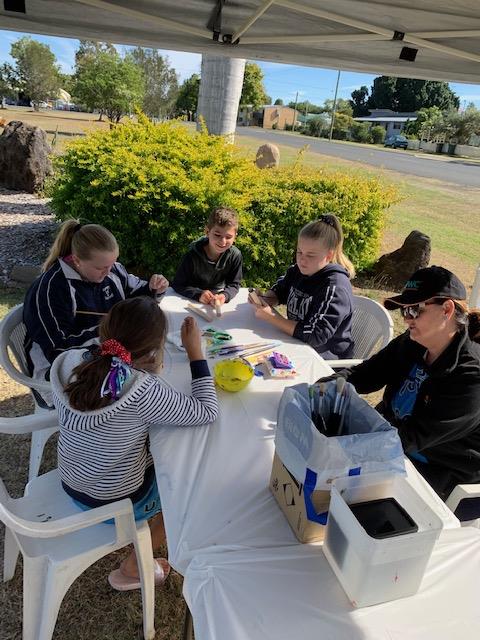 "For the older children there was a slight twist to the rules," said Ms George with a smile. "They had to throw a softer ball and use their non-dominate arm to throw it. There were plenty of laughs with this."
The "balloon race" also got the crowd laughing and cheering on the competitors.
Plus, there was clapstick painting, a "guess the lollies in the jar" competition and a lucky draw for NAIDOC prizes.
"It was a fantastic day, and we thank everyone who made it happen, and who took part," said Ms George. "We look forward to NAIDOC 2020 and doing it all again."